GET SET GO is a free, fun, and comprehensive health initiative that encourages youth grades K-8 to become more active and healthy through nutrition and physical activity. We increase youth physical activity and show them how to make healthier eating choices in their existing environment. The program also seeks to combat the overwhelming epidemic of childhood obesity.
MONDAYS & WEDNESDAYS
Boys & Girls Club
240 Scott Way
Bowling Green, KY 42101
3:30-5:30pm
THURSDAYS
Bowling Green Parks & Recreation
225 3rd Ave
Bowling Green, KY 42101
4:00-5:30pm
• Physical Activity and healthy program for entire family.
• Nutrition tips that all ages can follow.
• Healthy & delicious Snacks.
• Interactive meals.
• Family incentive program.
• On-going assessment and reports.
• Group & One-on-One Counseling.
• Traditional & Non-Traditional Physical Activities.
• Zumba.
• Aerobics.
• Kickboxing.
• Dance.
• Yoga.
• Greek Stepping.
• Interact with WKU Athletes.
• Incentive Programs.
And More…
• Enroll
• Volunteer
• Sponsor
• Donate
• Partner
We are always looking to engage and make "Get Set Go" better. If you or your group would like to get involve with our program, please contact us at (270) 495-0136 or via email at info@lightofchance.org.
• Attitude – youth will have a "can do" attitude
towards physical activity, nutrition, and goals.
• Awareness – youth will become more conscious of physical activity, nutrition, and how it affects their overall health.
• Behavior Change or intent to change behavior-youth will be more willing to engage in physical activity as well as eat healthier.
• Knowledge – youth will have more information,
facts, and understanding of physical activity and
nutrition
• To educate and help youth make healthier eating choices in their existing environment.
• To help youth maintain a healthy weight through physical activity and food consumption.
• To increase kids monthly physical activity.
• To prevent and reduce overweight youth ages 5-13 in Warren County, Kentucky.
Read our featured article in BG Parent Magazine's April/May/June Issue. (click here)
Read our article featured in the Bowling Green Daily News, "Keeping Kids Active" (click here)
View photos from our Get Set Go Wellness Program (click here)
Chef David Owens shows Get Set Go participants and their families how to makes nutritious, delicious foods, that appeal to the whole family during our Family Teaching Kitchen Seminar. (click here)
Read our featured article in South Central Kentucky's largest magazine. (click here)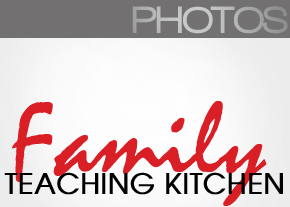 View photos from our Family Teaching Kitchen Seminar (click here)